On October 31st, the 25th World Management and Oriental Management Forum hosted by the China Committee of the International Federation of Scholarly Association of Management (IFSAM), Jiangxi Management Society, Shanghai Management Education Society, and JUFE. This was organized by the School of Business Administration of JUFE and was held on Mailu campus of JUFE.

Professor Lu Fucai, JUFE chairman, Professor Wu Zhaoyun, president of Jiangxi Management Society and former JUFE vice president, and Xiao Yun, deputy mayor of Nanchang Municipal People's Government attended the forum. The chairman of IFSAM, Professor Xavier Castaner from the Business School of University of Lausanne in Switzerland delivered an online speech. Nearly 300 experts, scholars, entrepreneurs, teacher and student representatives from more than 30 universities and 14 enterprises across the country gathered to conduct discussions on New Changes, New Ideas, New Development-Oriental Management Rethinking.
In his speech, Lu Fucai reviewed the development of Oriental Management and gave a brief introduction of JUFE. He pointed out that after more than 20 years of development, the forum has grown into a far-reaching management academic event with profound themes, high-level speeches and fruitful results. Also, he looks forward to the insights of experts, scholars and entrepreneurs at the forum to spark the wisdom of Oriental management.

Wu Zhaoyun shared that the Oriental Management School represented by Mr. Su Dongshui has established a sound theoretical system, forming branch theories such as harmonious management and Taoism. He believed the Forum will definitely contribute to the world's management problems with Chinese wisdom and solutions, use Chinese theories to explain Chinese practices, and in return, use Chinese practices to perfect Chinese theories.

Xiao Yun, on behalf of Nanchang Municipal Government, congratulated the convening of the conference. He said that after more than 20 springs and autumns, the Oriental Management Forum has yielded fruitful results, helping the Oriental management theory system to bloom and flourish. At the same time, he expressed hopes that the world management theory and Oriental management thoughts could be upgraded through times. He also said that as the host city, it is a good opportunity for Nanchang and the central region to open up, introduce and absorb advanced theories in management.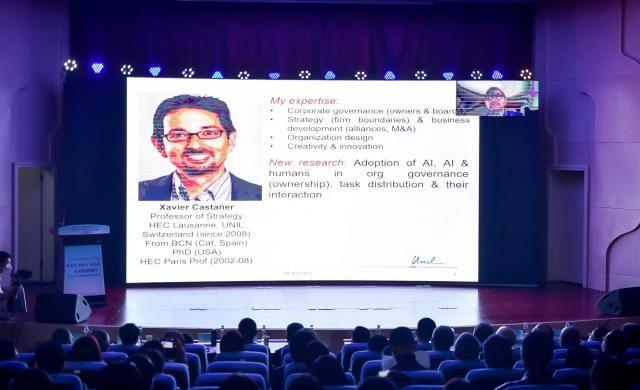 Since the forum was first initiated by Professor Su Dongshui, the founder of Oriental Management in 1997, it has become a grand event of three thousand students, two hundred elites, and one hundred works. The twenty-fifth forum held in Nanchang, the city of heroes, is full of highlights and continuous excitement.