Recently, JUFE held the unveiling ceremony of Tencent Cloud Certification Center (Hereinafter referred to as "TCC"). The ceremony was attended by Li Chungen, JUFE vice president, Qian Xulei, general manager of TCC, and Gao Xiaoshu, senior operations manager of Tencent Education, and presided over by Fang Yuming, dean of the School of Information Management.

Li Chungen extended a welcome to the visit of the representatives of TCC and pointed out that university-enterprise cooperation is an inherent requirement for the development and progress of enterprises under the new situation, as well as a new direction for the teaching reform, innovation and development of modern universities in China. The collaboration between JUFE and TCC is a useful attempt to promote university-enterprise cooperation and integration of industry, teaching and research. He also expressed hopes that through this cooperation, the two sides could achieve mutual complementarity in the interest of our common development, and jointly carry out all-round, multi-angle and in-depth cooperation in the construction of curriculum system, teacher training, employment quality improvement, and informatization construction.

Qian Xulei briefed attendees on TCC regarding the promotion of employment, deepening teaching, enhancing teaching abilities, and upgrading curriculum structure, and introduced Tencent's layout and development ideas in the education field in detail.

Subsequently, Li Chungen and Qian Xulei jointly unveiled the Tencent Cloud Certification Center at Jiangxi University of Finance and Economics.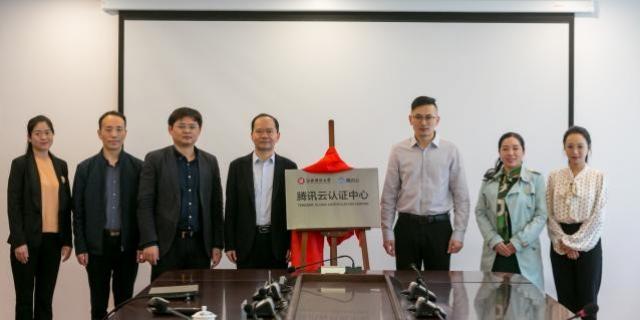 [Extended reading]
Tencent Cloud Certification Center (abbreviated as TCC) is a training and certification center officially authorized by Tencent Cloud. Tencent Cloud authorizes colleges and universities to conduct training on TCC-certified subjects for students, encourages them to take TCC-certified exams, master relevant knowledge and skills in the field of cloud computing, and help in the cultivation of industrial Internet talents in the context of new infrastructure.
Tencent Cloud will build a talent ecosystem for the industrial Internet based on the TCC. The specific mode is that Tencent Cloud serves as the export of Tencent's Industrial Internet that collaborates with universities through the TCC, and helps them to cultivate talents, thereby promoting technology and industry development. Tencent Cloud Certification Center provides a number of authorization services. After the partners are authorized, they can not only use the relevant logos of the TCC, but also gain the access to some popular courses such as cloud computing, artificial intelligence and big data and support of Tencent Cloud's cloud resources, which will help students improve their abilities in specific fields and increase their core competitiveness in employment. Tencent Cloud will also provide teacher training and teacher certification services through the TCC to help teachers master industrial Internet-related knowledge.