​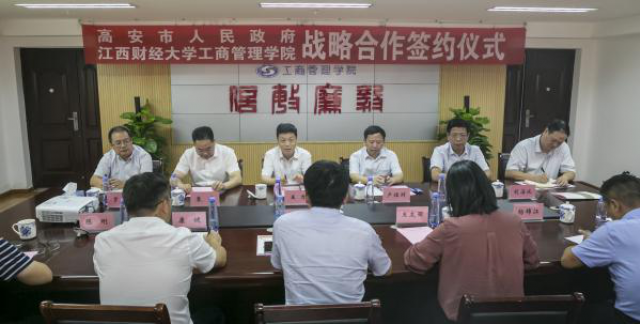 ​ ​On the afternoon of September 7th, the signing of the strategic cooperation agreement between the Gao'an Municipal People's Government and the School of Business Administration took place, witnessed by JUFE Chairman Wang Qiao, President Lu Fucai, Vice Presidents Yuan Xiong and Yuan Honglin, and government leaders of Gao'an.
​Wang Qiao introduced the history, discipline construction and talent cultivation of JUFE and expressed that JUFE stands ready to serve local economic and social development. The signing of the agreement marks a win-win cooperation since it will not only satisfy Gao'an's demand for talents, technology and research in sustaining industrial growth, but will also improve the reputation of JUFE and the School of Business Administration.
Hu Haibo, Dean of the School of Business Administration, began his speech by introducing the school with reference to slides. When it comes to cooperation, he hopes that the two sides will work closely in eight aspects, including the construction of logistics training bases and practice bases, talents cultivation projects, research centers for digital logistics and post-doctoral mobile stations.