​

On the morning of July 13th, the Chinese Tax System debrief meeting was held, marking the inception of JUFE's first internationalized English MOOC. Chaired by Liao Guoqiong, director of the Academic Affairs Office, the meeting was attended by experts including Vice President Li Chungen, Chief Professor Kuang Xiaoping, Dean of the School of Public Finance and Public Administration Zhang Zhongfang, Dean of the Overseas Education School Ye Weihua, and Director of the Teaching and Learning Center Lv Xiaomei.
As the team leader, Professor Wang Qiao, introduced the development of the course over the past four decades and the basic situation of the construction of international MOOCs. The experts spoke highly of the team's efforts devoted to making the Chinese Tax System an internationalized English MOOC and announced the course had met the standard for acceptance. Additionally, they put forward their opinions and suggestions that will make for more internationalized course resources and more accurate translations of terminologies.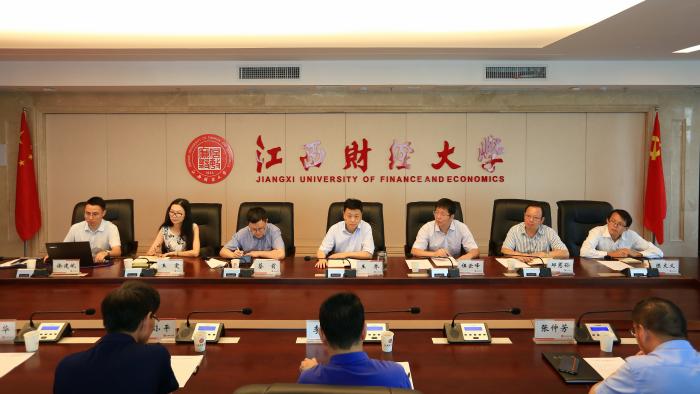 It is learned that Chinese Tax System was approved as a national excellent course in 2009, a national excellent course for sharing in 2013, an excellent open online course in higher institutions of Jiangxi province in 2016, a national excellent open online course in 2017. In 2020, it was selected as an excellent sharing course for talent cultivation in higher institutions of Jiangxi Province. Furthermore, the textbook compiled for the Chinese Tax System was recognized as a standard text for the twelfth Five-Year Plan, and its derivative, titled Exploration and Practice of the Teaching Reform of Chinese Tax System, won the second prize of the National Award for outstanding teaching achievements.