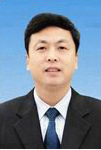 Prof. Wang Qiao, male, born in Yanshan County, Jiangxi Province in September, 1960, is a professor, doctoral supervisor and the Chairman of JUFE.

Honors
Prof. Wang is a discipline reviewing expert of National Social Science Found, a member of National Postgraduate Education Committee on Professional Degree of Taxation, one of the first elected young and middle-aged academic leaders of Jiangxi Province and a candidate of Jiangxi Ganpo "555" Talented Person Project. He is also an expert receiving the special subsidy awarded by People's Government of Jiangxi Province.

Professional Experience
After his graduation in finance from Jiangxi Institute of Finance and Economics in 1982, Prof. Wang stayed on to teach there. He used to be the Deputy Director of Fiscal and Financial Department of Jiangxi Institute of Finance and Economics which changed its name to Jiangxi University of Finance and Economics in 1996. Hereafter, he worked as the Director of Adult Education Department, Dean of School of Adult Education, Assistant to President as well as the Dean of School of Accounting and later Vice President of JUFE. In April, 2007, Prof. Wang was appointed as President of Jiangxi Science and Technology Normal College. He has been the President of JUFE since September, 2008. And he was promoted to the Chairman of JUFE in 2017.

Research Fields
Prof. Wang's research fields are Taxation Theory and Policy. He has published more than 20 papers on problems like fiscal and taxation system reform and relation between fiscal and taxation and economy development in national key journals in recent years. Besides, Prof. Wang has chaired and conducted over 10 research projects financed by National Social Science Foundation, Ministry of Finance, Jiangxi Social Science Planning Office, many of which were awarded Excellent Achievement Prize from Ministry of Finance and Jiangxi Province.

Social Posts
Prof. Wang's main social posts are as follows: Executive Director of Chinese Fiscal Association, Director of Chinese Taxation Association, Vice Chairman of Jiangxi Fiscal Association, Vice Chairman of Jiangxi Law Association and Vice Chairman of Jiangxi Human Resources and Social Security Association.