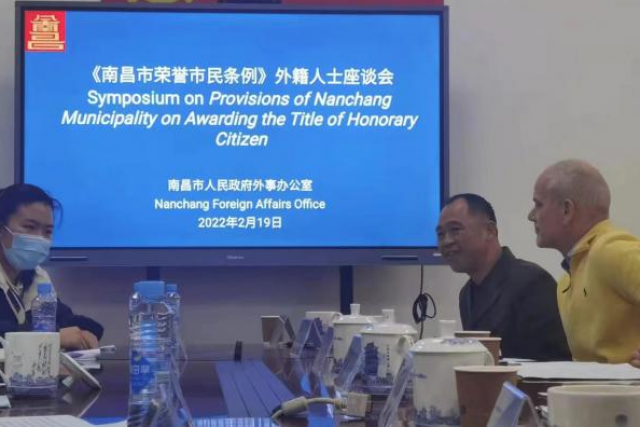 ​Recently, the Global Online column of Xinhua News Agency reported that two JUFE foreign teachers gave advice and suggestions on the implementation rules of the Regulations on Honorary Citizenship of Nanchang City (hereinafter referred to as "Regulations") at the Roundtable Meeting, and the number of pageviews has exceeded 1.6 million.

The Roundtable Meeting, hosted by Nanchang Foreign Affairs Office, aims to collect the reviews of foreigners living or working at Nanchang city, and therefore help to formulate "Regulations". During the discussion session, JUFE two foreign teachers, Suzuki Gao Qi and John Thomas Little, shared their views on the true meaning of democracy based on their experiences in China.
John Thomas Little said that if the regulations don't include a set of rules, no one is going to follow them. Hence on an individual level, the requirements have to be quantified. Suzuki Gaoqi asked what kind of preferential treatment foreigners who have been awarded honorary citizen enjoy. At the same time, he also expressed that he cherishes the opportunity to live and teach in China, and shared hopes that more policies related to citizens' happiness and interests could be made and promote the development and progress of the city.
The meeting was well received by the attendees, during which our foreign teachers expressed their wishes and appeals, and told their stories of a real, three-dimensional and comprehensive China with what they saw and experienced.
Xinhua News Agency client report link:
https://xhpfmapi.xinhuaxmt.com/vh512/share/10667269?channel=weixin