On October 17, the 2021 World VR Industry Expo officially opened. JUFE chairman Lu Fucai and president Deng Hui visited our exhibition area.

JUFE leaders visited various sections of our exhibition area in turn, watched the naked-eye 3D video and the large-screen VR dance display based on motion capture, and experienced the live filming of the Return to the Cretaceous VR movie with great interest. Subsequently, they had a friendly talk with the teachers and students participating in the exhibition and the effective planning and organization work of the exhibition deployment team was well-received. In addition, they encouraged everyone to make persistent efforts to showcase the results of JUFE VR with full enthusiasm and make full use of this opportunity to reinforce associations with the government, enterprises and talents, thereby creating a good ecology for the development of our Virtual Reality (VR) Modern Industry College.
It is the second time that JUFE has set up a booth in the World VR Industry Expo. The exhibition area is divided into an exhibition section and an experience section. The exhibition area mainly displays JUFE's achievements in industrial cooperation, talent training, scientific research, application development, outstanding works, and awards in the VR field in recent years and is divided into preface, VR talent training system, VR achievements display, and VR reputation and awards. The experience area allows the audience to experience the applications developed by JUFE using the latest VR technology, including AI, I am the leading actor in the Cretaceous (integrating XR, artificial intelligence technology, keying and other technologies in a 5G environment, returning to the Jurassic Prehistoric civilization), real-time naked-eye 3D and dance (under the 5G environment, real-time rendering, motion capture and other technologies are integrated, so that the content is no longer limited to program-limited actions).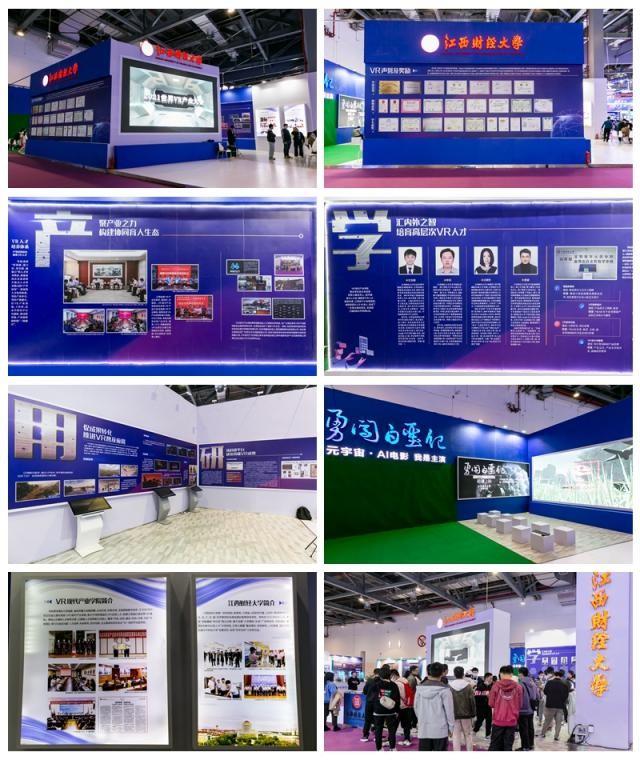 In order to implement the major decisions and deployments of Jiangxi Province, JUFE established the Virtual Reality (VR) Modern Industry College in September 2020. At present, the college team has basically been established and officially operated independently. The college has discussed co-construction matters with the Government of Nanchang Municipality, Honggutan District of Nanchang City, and Economic and Technological Development District of Nanchang City; established cooperation with more than 20 companies such as Huawei, NetEase, HTC, Hikvision and other VR head companies and China Mobile and China Unicom, thereby building a university-government-enterprise collaborative education model, a talent training system that integrates undergraduates, masters and doctors, and four talent training directions: intelligent multimedia, VR product development, VR product design, and VR design and management. In 2021, it has recruited 40 graduate students majoring in VR and more than 1,100 undergraduates. In 2021, the project Research on Key Technologies of Panoramic Video Analysis and Processing Based on Visual Perception was funded by the National Natural Science Foundation of China. In addition, the college has developed a number of applications such as VR cultural tourism, naked-eye 3D, games, etc., which have achieved good economic value and social effects.