​From May 7th to 9th, the National Frontiers Forum on Statistics hosted by the School of Statistics was held in Jinggangshan City. More than a hundred experts and scholars from nearly 50 universities and research institutes across the country, including Peking University, Tsinghua University, Renmin University of China, and Academy of Mathematics and Systems Science of the Chinese Academy of Sciences participated in this forum. JUFE Chairman Lu Fucai and Executive Deputy Mayor Tu Le of Jinggangshan City were invited to address the opening ceremony, which was presided over by Ping Weiying, Dean of the School of Statistics of JUFE.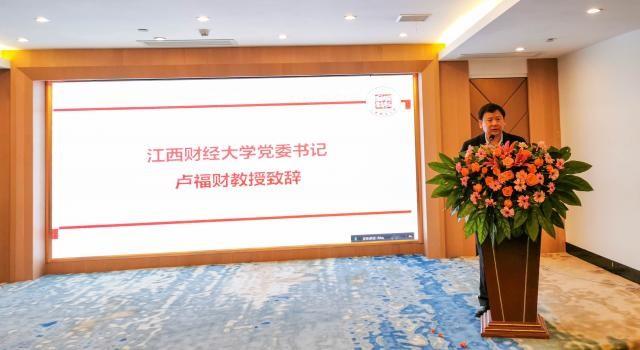 In his speech, Lu Fucai extended a warm welcome to all the experts and thanks to friends from all walks of life for their concerns and support for the development of JUFE all the time. Followed by an introduction of JUFE's development history and current situation, Lu Fucai pointed out that the forum is organized to unite statistical experts across the country, hold academic seminars on the frontiers of statistics and exchange experience in subject construction, further improve the scientific research level of statistics, promote the reform and development of statistics, and train statistical talents needed for the socialist modernization and modern statistics of our country. He also expressed hopes that this forum could further promote academic exchanges and the discipline construction of China's statistics in the new era. Finally, Lu Fucai requested that the School of Statistics carry out in-depth theoretical and practical research of statistics around key areas and issues, further improve the construction level of statistics, and help China's statistics to play new roles.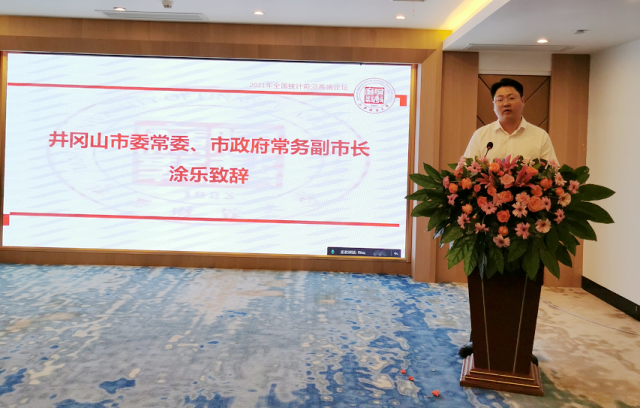 Prof. Guo Jianhua, convener of the Evaluation Group of Statistics of the Academic Degrees Committee of the State Council and vice president of Northeast Normal University, Prof. Fang Xiangzhong from Peking University, chairman of the Statistics Teaching Steering Committee of the Ministry of Education, Prof. Wang Rongming, president of Shanghai University of International Business and Economics, and prof. Jiang Jiming of JUFE addressed the forum respectively.

On behalf of the Municipal Party Committee and Government of Jinggangshan, Tu Le gave a hearty welcome to the leaders and experts and then briefed them on the basic situation of Jinggangshan City. He invited the attendees to take a tour around Jinggangshan, and to give further valuable suggestions on its development.