JUFE and Coventry University had an online seminar themed "Virtual World Tour" on the evenings of November 6th and November 9th to share and discuss the excellence of traditional Chinese culture.

Proposed by Coventry University, JUFE, Southwest University of Political Science and Law and Guangdong University of Foreign Studies acted as the main lecturers and actively interacted with foreign teachers and students centering on topics such as economy, culture and daily life. JUFE invited teachers from the School of Humanities and the School of Tourism and Urban Management to deliver speeches and Chinese and international students to share their thoughts.
On the evening of November 6th,the team led by Ai Xiaoyu from the School of Tourism and Urban Management introduced the origin of tea, the geographical distribution of tea gardens in China, the types of tea plants and the different varieties of tea, as well as the famous teas within Jiangxi in a humorous and easy-to-understand manner. Videos were used to vividly demonstrate Jiangxi's famous teas and the grinding process of Hakka ground tea. The knowledge of Chinese and foreign students on tea culture was further enhanced through a Q&A session.

Another team led by Wu Yang from the School of Humanities kicked off the second discussion about Chinese porcelain culture on the evening of November 9th. The participants had a better understanding of the features and history of Chinese porcelain after Wu Yang showed pictures of Chinese and British porcelain and elaborated on the developmental history and production processes of Chinese porcelain in the form of videos. In the end, the team dwelt on the usages and colors of different types of porcelain and interacted with students through online quizzes, so as to enrich their knowledge of Chinese porcelain culture.

This seminar strengthened the communication between JUFE and Coventry University, and aroused students' interest in Chinese culture. It was another exploration into the new model of international cooperation and exchange in the post-pandemic era.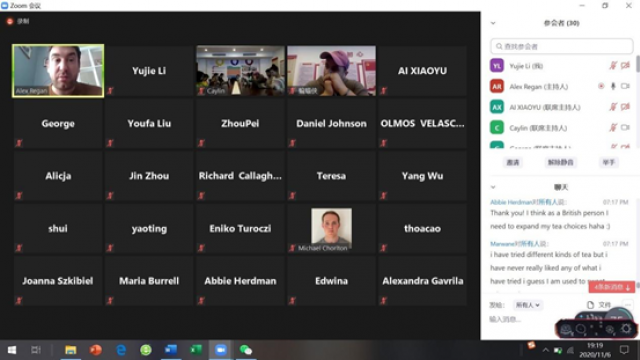 ​