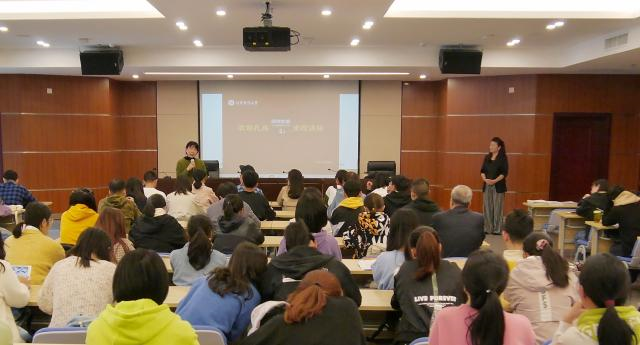 On the afternoon of October 21st, Dr. Kong Gaoning, vice president of Golden Arrow and chief international education consultant, gave a lecture on Finance and Economics Graduates' Study Abroad in this Pandemic Phase in JUFE. The lecture was organized by the Office of International Cooperation and Exchange and the Admissions and Recruitment Office and assisted by the Student's International Communication Association.
Against the backdrop of the worldwide pandemic, Dr. Kong analyzed the trends in applications made to host countries. She believes that the main host countries will suffer uncertainties in application processes while Eurasian countries will continue to gain popularity. Dr. Kong motivated students to pursue further progress in academics and personal development and select host countries and institutions prudently. With the nature and goals of education in mind, she noted that one's vision, commitment and efforts are what it takes to lead a happy life in his/her first 35 years. Dr. Kong prioritized that students should be sensitive about their choice of major and stay on top of information concerning JUFE's exchange programs.
​
In the end, Dr. Kong encouraged the attendees to surround themselves with excellent peers for personal growth. Impressed by the students' active engagement, Dr. Kong answered their questions about overseas study and praised JUFE students for their thoughts and feedback.
Extended Reading
Kong Gaoning obtained her PhD in Materials Science from the University of Birmingham. As a senior educator in the field of overseas study and chairman of the Chinese Materials Association in the UK, she has been devoted to research cooperation and student cultivation among Chinese and British universities, contributing greatly to China's technology introduction and talent cultivation.