​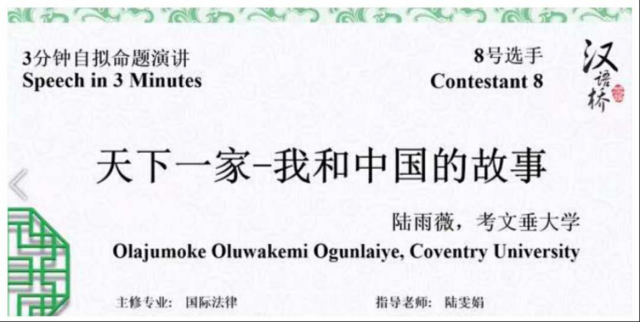 On September 19, 2020 (UK time), Lu Yuwei (Olajumoke Oluwakemi Ogunlaiye), a student of the Confucius Institute at Coventry University, won third place in the 19th Chinese Bridge Chinese Proficiency Competition for Foreign College Students ("Chinese Bridge" for short) in the UK and will compete in the global final.
The online competition consists of four sessions and attracted 10 UK participants. After personal speech, Q&A session, talent show and video introduction, Lu Yuwei outperformed the rest with her proficiency in Chinese language and culture.

​Ambassador Liu Xiaoming stated that although the competition had to take place online due to the pandemic, the love for Chinese culture could not be drowned out. We are keenly aware that regardless of nationality, race, or language, all people are members of the same community with a shared future.
The Confucius Institute at Coventry University, as a part of the global community, should make its due contributions to Sino-British exchanges.