On the afternoon of Oct 9th, at the invitation of JUFE's international office, Gong Siyi, the Vice President of Shanghai University (SHU), gave an online briefing on The International Strategies Adopted in the Thirteenth Five-year Plan and Thoughts about SHU's International Endeavors in the Post-pandemic Era. Her speech was an inspiration to JUFE staff from different schools and administrative departments.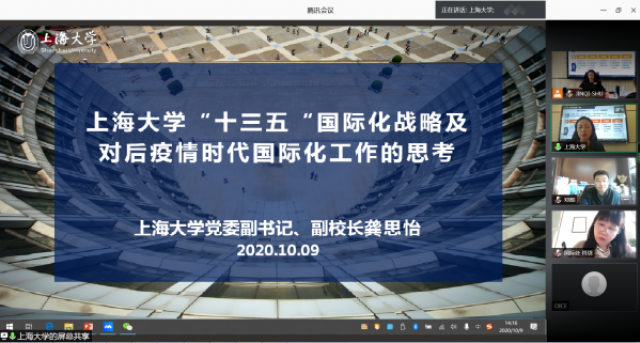 With the background of the Thirteenth Five-year Plan in mind, Gong Siyi explained in detail the practices propelling SHU in the global arena and the outcomes they have entailed. In light of the international situation in the post pandemic era, she suggested that international cooperation and exchange will shift to a new paradigm driven largely by technology, with online exchange, information sharing and multilateral cooperation as the mainstay.
As the host of the online symposium, JUFE Vice President Deng Hui appreciated Gong Siyi's presentation and spoke highly of SHU's comprehensive and systematic internationalization, which includes a wide range of collaborative programs. As a benchmark institution with the keystones of internationalization and talent cultivation, SHU ranks among the top in China for internationalization and its efforts are deserving of attention.
The attendees held an extensive in-depth discussion on revenues created by internationalization, top talent introduction, and Sino-foreign collaborative programs. Furthermore, they talked about how schools play a central role in internationalization and what mechanisms are needed to ensure the internationalization of SHU and JUFE.
The symposium carried great significance as it further bound SHU and JUFE and provided fresh ideas for JUFE's ongoing internationalization.