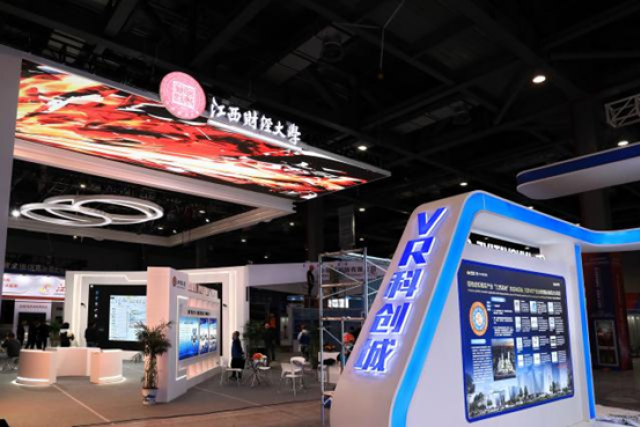 The 3rd World Conference on VR Industry was held in Nanchang from October 18th to 20th, 2020. With the intention to showcase the achievements in the VR field, JUFE set up a booth in the Greenland International Expo Center. Due to the strong emphasis placed on its arrangement, President Lu Fucai and Vice President Deng Hui visited the booth to share guidance on the afternoon of October 16.
​

The VR Modern Industry School shouldered the main task of exhibiting the booth. In order to make the VR Voice of JUFE resonate worldwide, the exhibition hall took on an arrangement called "One Book, One Video, and One Booth". One Book refers to describing JUFE and its VR Modern Industry School which entails VR-related industry, education, research, result transformation, entrepreneurship, and practical use; One Video was designated to demonstrate JUFE's VR works and its efforts in the development of VR technology through videos; One Booth displayed the VR products made by JUFE students and teachers, so as to enhance the public's recognition of JUFE's VR education and lay the foundation for the advancement of the VR Modern Industry School.
Extended Reading
The VR Modern Industry School is being built on the sound foundations of the School of Software and Internet of Things Engineering, the School of Information Management and the School of Art, allowing it to excel in programs and disciplines, research, experimental platforms, VR applications and teaching staff. Centering on the demands of VR industries, the school will try to cultivate more VR talents and reinforce the connections between VR industrial chains, innovation chains and education chains.