Vice President Lead to Overseas Students to Visit Xiaoping Trail to Tell "Chinese Story"
On the morning of June 9th, Vice President Wang Xiaoping led more than 20 international students from our school to visit the Xiaoping Road former site to tell them foreign studentsthe "Chinese story", learning about the three years' work and life in Jiangxi for three yearsof a great man-Deng Xiaoping.
This activity is the expansion and extensionof Professor Wang Xiaoping's course --- "Chinese Macroeconomic Theory and Policy"classroom teaching. When the international students learned through this course that Deng Xiaoping, a great contributor to China's Reform and Opening Up, was also a leader for China's Reform and Opening Up, they expressed the strong will everyone saidthat if they had the opportunity, they certainly would certainly go to the place where this great man once worked and lived, taking a look and feeling the will power and creativity of the great man-Deng Xiaoping.
Through explanations, the students learned about Deng Xiaoping's extraordinary life experience.s in his lifetime, especiallyWhat impressed them most is that when he came to Nanchang, he was already over seventy years old. However, he still maintained a positive and optimistic attitude and persisted in working for six to seven hours a day. Moreover, his excelsior attitude of work is even more impressive. When entering the workshop where he once worked, foreign students were very curious about everything in the workshop. Some foreign students even directlytook up the tools which are designed for forthe visitors to test in the workshopand studied them verycarefully. Prof. Wang Xiaoping explained the usage of some tools and the meaning of the wall banners, for everyone,and the foreign students all gave their thumps up for praised his wonderful explanations.
After visiting coming out ofthe workshop, everyone embarked on the Xiaoping Trail. A Ukrainian student named Denys foreign student Denys from Ukraine walked and said, wonderingwondered what kind of great man can still think about his country could bein such a remote and tough place. with harsh conditionswhile keeping thinking about the couHe really admired this leader.
After the visit, everyone took photos with Deng Xiaoping statue. On the bus back to campus, Waqas, an international student from Pakistan, said that through this visit to the site of the "Xiaoping Road,"he felt that he had received a lot of encouragement. in his spirit.He would "move on and stay true to the original self mission"accompanied by the spirit of" keeping going forward regardless of pain and loss in the future prospectivestudy and work. MeanwhileLikewise, Atizaz from Pakistan also said that the realm of life demonstrated by Deng Xiaoping was the best interpretation of the spirit of "staying true to the original remembering the initial aspiration and keeping staying true to theour mission firmly in mind". He was determined to would also study hard and return to homeland and tell the Chinese Story for more Pakistanis when he comes back to his homeland. Bol Deng, an overseas student from South Sudan and official of the Ministry of Commerce in South Sudan, said that he was alsoan official of the Ministry of Commerce in South SudDeng Xiaoping created a broad road characterized by reform and opening up and socialism with Chinese characteristics while walking on the Xiaoping Trail. left the "Xiaoping Trail" leading the road of China's reform and opening up to build a socialist road with Chinese characteristics.Amazingly, he was very much in line with the idea of reform against all the odds.It is remarkable that he stood up for the idea of reform despite all dissenting views. Bol Deng said he willwould study the "Chinese economic story" with great concentration and he alsohohopes to learn from his experience to boost his own country's economy after returning back to his homeland.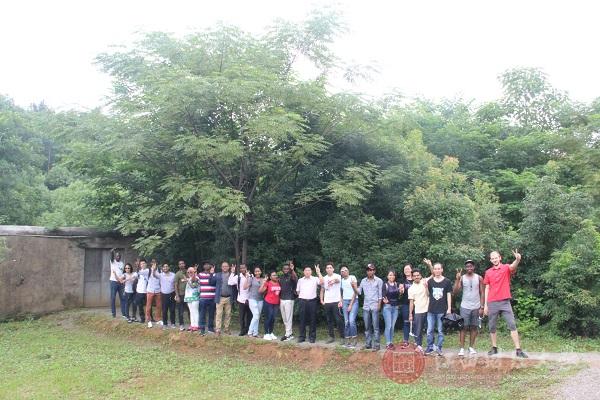 Finally, Professor Wang Xiaoping toldsaid to foreign students that : "Mao Zedong helped the Chinese people stand up, Deng Xiaoping let the Chinese people get rich, and Xi Jinping makes the Chinese people stronger. We hope that through this activity today's activities,everyone will have their own gains and perceptions. In future studies, I will tell you hewould also tell themmore Chinese stories. The students also expressed their great expectations for learning more and more exciting "Chinese stories."
[Extended reading] Xiaoping Trail is located in the village of ShengzhuangZhuangcun, Wangcheng, Xinjian Wangcheng. It was originally called the Xinjian Tractors Repairing Plant and occupies an area of nearly 188 mu. It stretches eastward to Shengzhuang, southward to the 320 National Road, and northward to the Nanchang Army College. It was a place where the great man- Deng Xiaoping-worked and lived from October 1969 to February 1973. Deng Xiaoping used to walk along this 1.5km long trail. Later on, people call this trail "Xiaoping Trail." This is also the birthplace bud of Comrade Deng Xiaoping's important ideas for designing China's reform and , opening up as well as and modernization. In 2000, it was designated as a provincial cultural relics protection unit. In March 2002, it was identified as an educational base for patriotism, revolutionary traditions, and reform and opening up, and Deng Xiaoping Theory. In December 2016, the Xiaoping Trail Museum was selected into "National Red Tourist Attractions Scenic Spot List".