Guests from China International Talent Exchange Fountain paid a visit
On April 10, Mr. Wang Lishe, director of Project Development Department,China International Talent Exchange Fountain,accompanied by the guests from Australian International Business School Alliance,the International Office of Hagers University,and Datang International Education Development Holdings Co. Ltd. Vice President Wang Xiaoping met with the delegation.
Wang Xiaoping expressed his warmly welcome to Wang Lishe and other guests.And then,he gave a brief introduction of the international development of JUFE and the basic situation of the College of Modern Economic Administration to the guests.He pointed out that although JUFE students were quite excellent and many of them with high GPA score had been enrolled by the world-famous universities for further study every year,JUFE still hoped to be supported by China State Bureau of Foreign Experts and other ministries in order to gain more resources,and build more platforms for the Internationalization of JUFE.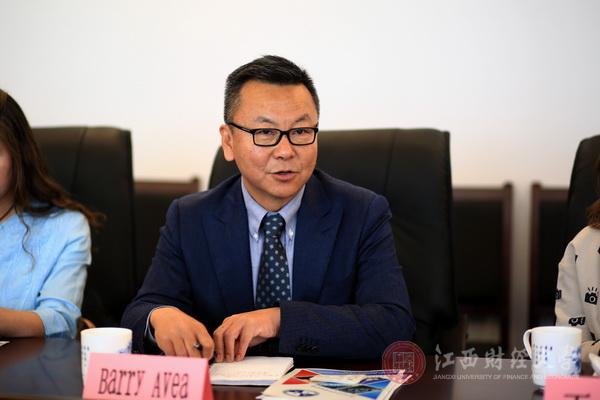 Barry Avea, dean of Australia International Business School,executive director and secretary-general of the Australian Education Federation,gave a detailed introduction to his "Silk Road Business School" online course,TAFE College,Australian CPA certificate program and international teacher qualification training program.Wu Hao, head of the international department of the University of Higgs,United States,introduced the school's practical master program and online language training system.
Mr.Wang Lishe gave high praise to the achievements of JUFE's internationalization.He pointed out that China-US financial and economic case teaching training program,international teacher qualification training program,international financial risk officer certificate program,study overseas scholarship program of State Foreign Experts Agency," One Belt and Road Initiatives"overseas school-running program were all in line with the JUFE's strategy.It's expected that through the joint efforts of both parties, every program would be carried out successfully.
Before the end of the meeting,the two sides once again defined the responsible persons and schedule for promoting the cooperative programs.
Professor Xiao Long,director of the Office of International Cooperation and Exchange,Mr.Chen Ming,deputy dean of the School of Modern Economics and Management,Mr.Xiao Jun,deputy dean of the School of Finance,and staffs from the International Office and Finance School attended the meeting as well.